Doing A Little Spring Day Dreaming
(Not A Sponsored or Gifted Post. No payment was received for brands/stores mentioned in this post. All writing and opinions are my own)
There's nothing like a little unseasonably warm weather to get one thinking...no dreaming...about Spring and all the things that can go with Spring. First off, lighter, brighter clothing...like the dress and filmy scarf wrap I'm wearing in the above picture. I love this color combination. How about some other pretty Spring dresses? Let's go "dream" shopping and see what we can find.
How pretty is this floral dress with 3/4 bell shaped sleeves? It really says "Spring" doesn't it? Bell shaped sleeves seem to still be "in" this season.
And how lovely is this paisley print faux wrap dress? I love the price points on both of these dresses on clearance at Stein Mart!
Wish I had someplace to wear this dress! I wonder how I would look in that ruffled hem?! This is more expensive than the other two, but oh so pretty!
I do believe that this light blue striped dress would look great as is or paired with white leggings. What do you think? The half sleeves are bell shaped. Love this style!
Finding anything so far you like for Spring? How about shoes?
I like this pink flat a lot. Don't know if I could wear that pointed toe or not, but it's a lovely Spring color!
Hmm...what do you think about this leopard print? Leopard print is certainly trending right now. Not sure how "Spring like" this is.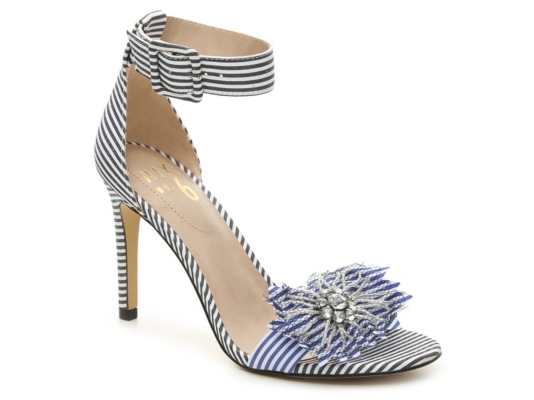 Add caption
OK, couldn't wear these in a million years, but, we're only dream shopping, right?! Do you ever try something on just to see what it would look like on you even though you know you wouldn't buy it? Yep, me too! Wouldn't these look smashing with that light blue striped dress with the bell sleeves?! (And I would be smashing down the stairs wearing them!)
Uhhhmmmm...I don't think so. Although, these are probably very comfortable.
Ooohhh, now I really think these are pretty! Maybe I could wear them since they have a block heel? I think these would go well with the ruffled hem hot pink dress.
OK, this is more like it. I think I could wear this slip on sandal with either of the print dresses or the light blue striped dress. Plus, I wouldn't fall down wearing this block heel. Score!
How about if we finish off with some handbag shopping?
I really like this blue tassel clutch. Very pretty. I'm always drawn to blues.
This is a nice floral bag with a longer strap. The colors are very Spring-like!
Love this hot pink tote. I still enjoy carrying a tote with a smaller bag inside that I can pull out and carry into stores. This would work well with that.
This smaller dome satchel would be a practical choice for both hand carrying and wearing on the shoulder. And...the flowers and colors say, "Spring!"
Well, this dream shopping spree is coming to a close. Which of the dresses, shoes or purses was your favorite? Didn't find anything you liked? No problem. The great thing about "dream shopping" for Spring is that you can do it whenever you like at no cost to you!
Hope you'll let me know what you liked. I love your comments!
Until Next Time,
Debbie